I made my first batch of raw cat food three years ago.
Since that first batch, I've learned a batch. I've figured out how to make cat food—obviously—but I've also picked up on something else. Over the last few years, step by messy step, I've discovered how not to make it!
Every mistake, hurdle, and misunderstanding slowed me down. I had to make all of those mistakes myself. There wasn't anyone to warn me about them. But you don't have to go through the same struggle.
In this article, I'll share the biggest tips I've learned about how NOT to make raw cat food. Let's jump into it.
How not to make raw cat food: a step-by-step guide.
1. Don't plan ahead. It's best to wait until you run out before even
thinking
about making another batch of food.
That's right. Don't keep track of how much cat food you have left in the freezer until you're completely out and left with nothing to satisfy those ever-loudening hungry meows. Even better if you don't keep cans of backup food around and have to run to the store so those kitties don't starve. Good job.
Once the empty stomachs have been filled and you can hear yourself think again, don't schedule any time to make another batch of food. Hope for the best and wish upon a star that you'll find time to fit cat food making in in between work and gym-time. I'm sure it will happen.
And do NOT write a list of ingredients, whatever you do. When you find yourself at the grocery store or butcher shop, you'll be able to remember what goes into the raw cat food recipe, for sure. What's the worst that can happen?
What to do instead:
I'm the first to admit that I still struggle to make time for cat food preparation. It's not my favorite thing to do, but let me tell you, it's a lot easier to get it done when I plan ahead and commit to prepping on a certain day. You need to figure out what works with your schedule. It may be easier for you to set aside several hours once a month for a big cat food making day, or maybe smaller batches and less time fit better in your schedule. Add a cat food prep day to your planner or Google Calendar so you won't forget it!
You can even turn Cat Food Making Time into a little party—just you, your cat, a little music, and raw meat and supplements. It can actually be a fun way to spend a couple of hours!
2. Don't choose a clear recipe. Make sure it's as confusing as possible.
You need to find the most confusing, information-dense cat food recipe out there. I recommend that the recipe requires lots of scrolling back and forth, which is always fun when your fingers are covered with ground-up chicken.
Don't print out a copy for reference and don't even bookmark the page you found the recipe on. Finding your favorite recipe should be very inconvenience.
What to do instead:
When I started making raw cat food, I used a recipe from this super-informative webpage. There was a detailed recipe with modifications and information on why cats needed each of the ingredients. It was great, but the page was also very long and dense. It was tough to sift through, especially when you're in the middle of making cat food! I recommend collecting a few recipes you trust (simplify them if necessary) and print them out.
It's a good idea to laminate your recipe or to put it in a plastic sleeve once it's printed. This way you can easily clean off any raw meat that it may be exposed to.
3. Don't get the right equipment and make do with whatever you have around.
Instead of using a proper food scale, pull out the old poorly-calibrated postal scale that you've got hanging around, and use it instead. Yeah, it's hard to get measurements right, but do the ratios of muscle meat and organs really matter?
Choose small mixing bowls that can't contain a full batch of cat food. You can improve upon that with an undersized cutting board, too. Your chicken will go sliding off onto the counter, but that's part of the fun.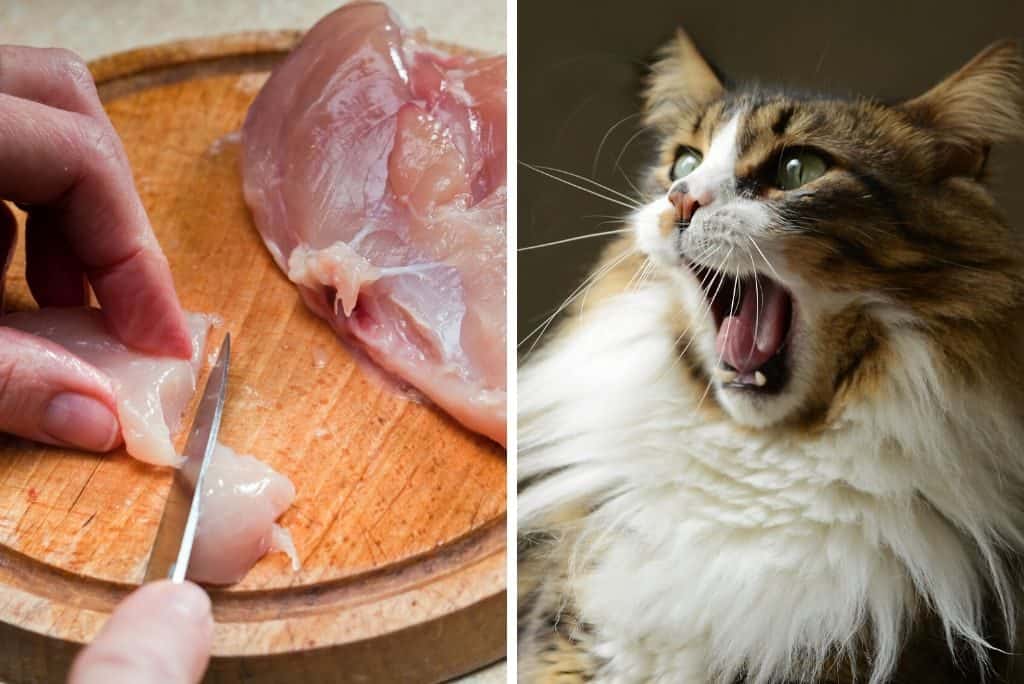 What to do instead:
Choosing the right tools and supplies makes a world of difference. I don't want to discourage you from making cat food using the kitchen tools you have around. If you're not sure if you're going to make cat food long term, go for it with whatever tools you have around. Just be aware that it's much easier with the appropriate equipment. The most important of those are a food scale, large cutting board, and jumbo mixing bowls. Fortunately, these are all common kitchen supplies!
In addition to the tools I mentioned above, if you're planning on making raw cat food long term, consider investing in a meat grinder that can handle bone. While bone supplements are a decent short term substitute, a supplement isn't balanced like a real bone for long term feeding. Not every meat grinder can handle bone, so make sure you double-check before you buy.
4. Use inconvenience and messy storage containers.
We want raw chicken all over the outside of your containers—and what better way to achieve that than by using plastic baggies? Not only do you get to scoop raw meat smush into a smeary bag, but you get to scoop it out. Imagine reaching your spoon into the bag, trying to scoop out the last of the raw chicken. You try to avoid touching the chicken-y sides of the bag—oops! Now your hand is covered in raw cat food.
It should be easy to drip raw cat food onto the outside of the bag, too. Always a good idea, especially when you're putting it back in the fridge with the rest of your food. After all, don't raw food naysayers always mention how dangerous handling raw meat can be? This is the way it's supposed to be.
What to do instead:
Plastic baggies store well in the freezer and don't take up much space. Despite that, I've always found them to be super wasteful and inconvenient. You can't reuse a chicken-covered plastic bag, and it's nearly impossible to get all of the food out of the bottom.
A convenient and space-saving alternative to plastic baggies is 8 oz. stackable plastic deli containers. They're sturdy, reusable, and easy to serve from without making a mess. Best of all, you can toss them into the dishwasher for sanitizing!
5. If the transition to raw cat food isn't going as smoothly as you expected, don't forget to put yourself down.
If your cat doesn't take raw cat food right away, it's your fault. You probably didn't introduce it slowly enough, or maybe you made the wrong recipe choice.
Embrace the doubt and worry that comes along with the choice to prepare your cat's meals. It's a lot of responsibility and you absolutely should fret about your recipe choice and panic that there's no "complete and balanced for all life stages" label to lean on.
And if you only have time to supplement with raw or decide that you don't want to feed a raw diet at all, remind yourself that you've failed. It's all in or nothing.
What to do instead:
Don't expect the raw food transition to go perfectly. Cats who have been fed kibble for their entire lives sometimes look at a bowl of raw food like it's straight out of outer space. "Where's the…food?"
Feeding raw takes time and patience. Things aren't always going to go the way you expect. I love feeding my cats raw food—it's a biologically appropriate choice that I know they enjoy. I also don't feed raw food 100% of the time. And that's okay. You can feed your cat raw food part of the time and canned food the other part of the time. That doesn't mean you're a raw feeding failure! You're just doing what works for you and your cat. Even if you realize raw feeding isn't for you, don't feel bad. A raw diet is far from the only nutritious choice
As long as you're dedicated to feeding your cat a nutritious, meat-based diet, you're on the right track.
Also Read: 8 Ethical & Eco-Friendly Cat Foods
Making raw cat food is easy with a little preparation and patience.
The truth is that making raw cat food is a lot less intimidating than it looks at first. With a little bit of prep work and the right supplies, mixing up your first batch of raw cat food should be a stress-free and fun experience. Just make sure you learn from my mistakes!
Author Bio:

Eileen Crusta is the co-founder of Wildernesscat and is dedicated to helping cats live happy, healthy, and adventurous lives at their humans' sides. Visit Wildernesscat for home remedies, radically natural cat nutrition, nature-fueled lifestyle inspiration, and product reviews.

For a full guide to making raw cat food including a free PDF recipe, check out Wildernesscat's How to Make Raw Cat Food: 11 Hacks to Make it Easy.